FeNO measurement
Better control of respiratory tract inflammation
You are an asthma sufferer. In that case, you know only too well how this chronic inflammatory disease of the airways can affect your quality of life. With the help of modern medication and continuous monitoring of the level of inflammation and the progression of the disease, asthmatics can nowadays still lead an almost normal life.
Asthma self-management – important for a life free of symptoms
Crucial to this is that you engage with managing your disease at home through regular self-monitoring and share information with your doctor that is important for assessing your asthma and adjusting your therapy. To this end, daily peak-flow measurement is probably also part of your daily routine.
What you should know: In the meantime, this is no longer the only way to measure and document your current asthma status at home.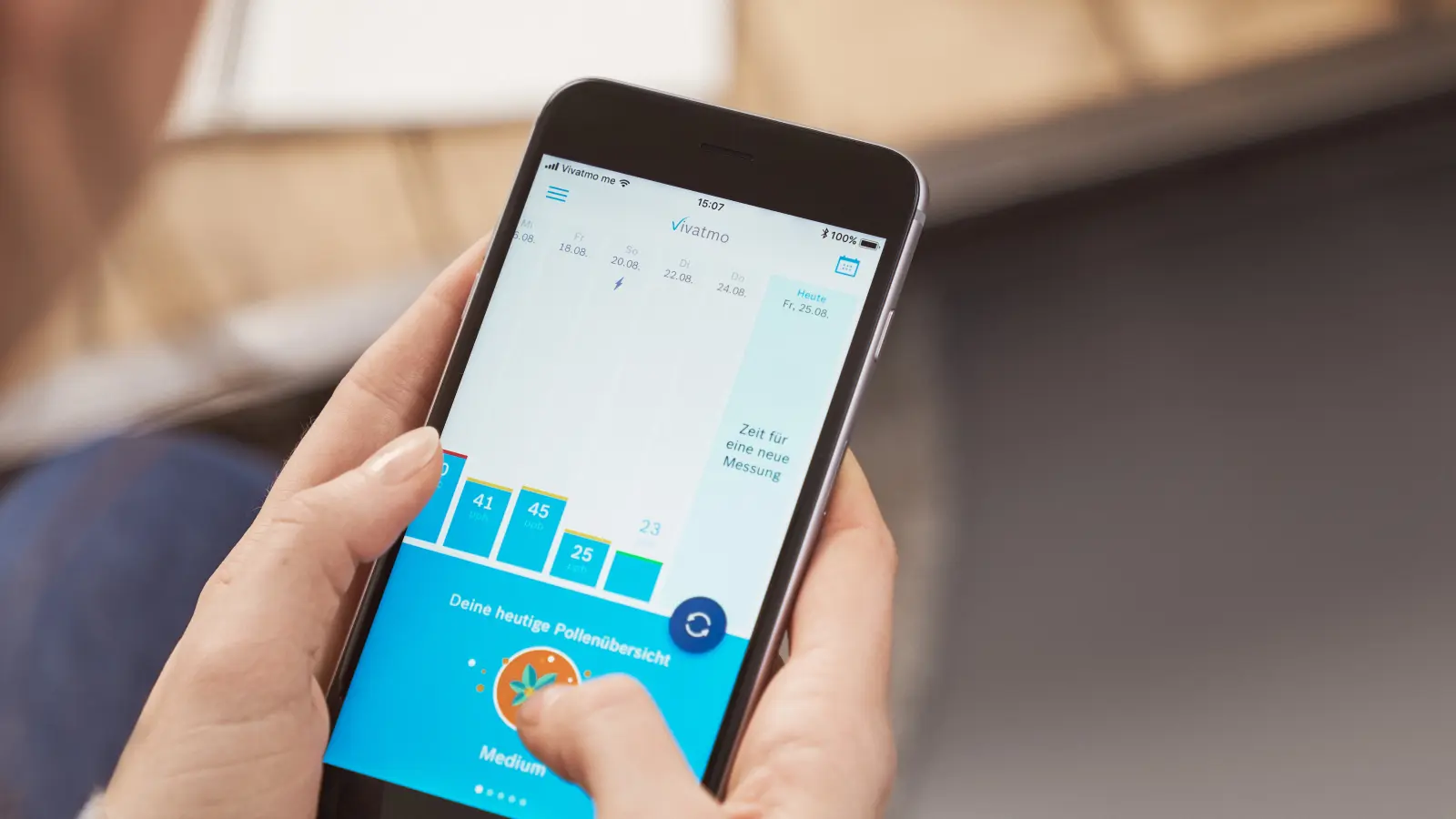 Measuring the FeNO value – optional asthma monitoring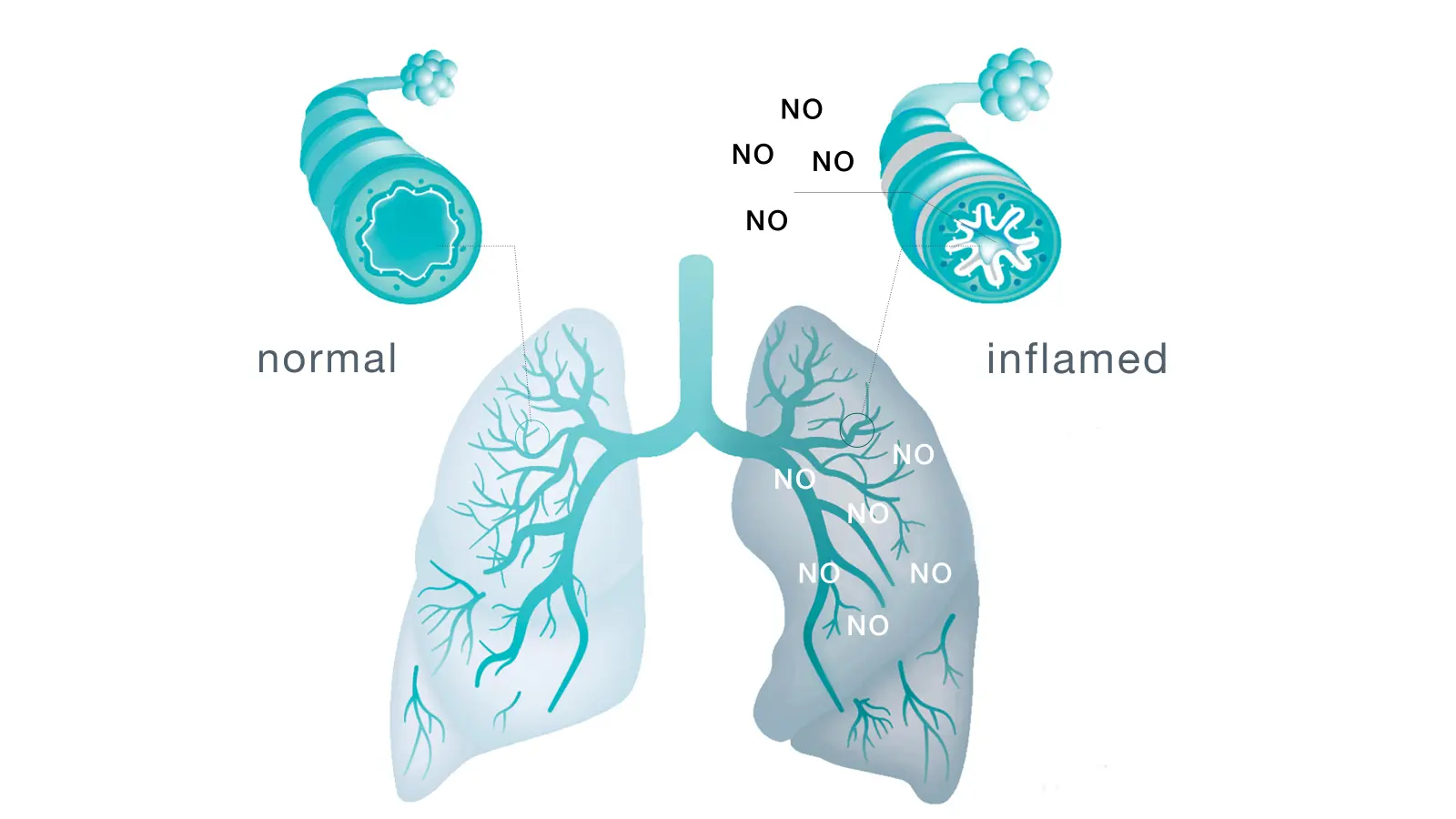 The FeNO value is a biomarker that provides a direct indication of the level of inflammation in the lower respiratory tract. The inflammatory processes in asthma produce nitric oxide (NO) in the mucous membrane of the airways, which can be measured in exhaled air. The higher the NO content, the more severe the inflammation.
NO measurement is an established and recognized method for determining the degree of inflammation of the airways and offers some important advantages over other self-management methods such as peak-flow measurement for monitoring asthma.
FeNO and peak flow - measurement methods compared1
FeNO
Peak-Flow

FeNO

Calibrated measuring method

Peak-Flow

Individual reference values related to symptom-free values

FeNO

Consistent measuring conditions

Peak-Flow

Measuring conditions depend on state of health

FeNO

Shows the current degree of inflammation at the time of measurement

Peak-Flow

Measures the current lung function


FeNO

Early indication of a deterioration – even before you show symptoms

Peak-Flow

Peak-flow value shows current lung functions and only decreases with significant symptoms (constriction)

FeNO

Shows early and reliable response to changes in asthma medication

Peak-Flow

Shows how successful asthma treatment is after a long period of time
At last FeNO measurement at home with Vivatmo me
Until now, measuring the FeNO value involved substantial costs and effort and was therefore only possible in a clinical setting or at well-equipped medical practices.
With Vivatmo me – a small and easy-to-use measuring device for home use – you can now finally measure the FeNO value yourself without any effort. Measuring FeNO at home with Vivatmo me is fast, uncomplicated, accurate, and non-invasive.
It provides a reliable reading that shows how severe the inflammation in your airways actually is.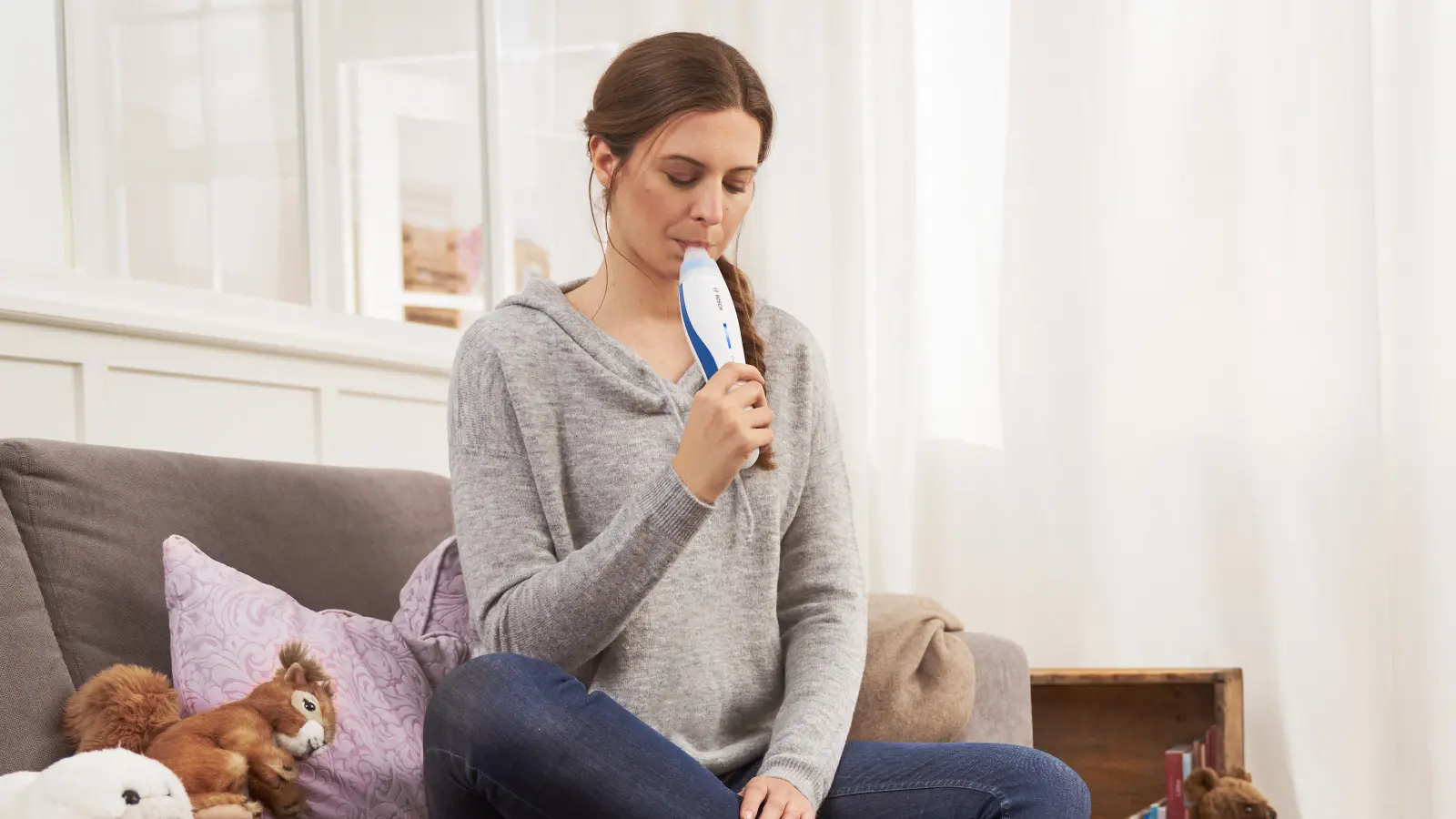 The benefits of FeNO measurement
The FeNO value gives you an exact and objective variable (ppb) for the degree of inflammation in your lungs2-6
FeNO measurement shows early indications of a deterioration – even before you show symptoms2-6
The FeNO value provides important information that helps you to decide whether you need to visit your doctor. This enables your doctor to take early action to adjust your medication2-6
FeNO measurement shows early on whether there is a positive response to medication and a reduction in the degree of inflammation2-6
FeNO measurement is a standardized procedure7,8. Thanks to its visual display, the Vivatmo me FeNO measuring device helps to ensure the measuring conditions are always the same
FeNO measurement at home significantly improves your asthma management
Identifying early-warning signs
By detecting signs of changes early, FeNO measurement provides you with an important early-warning system that can help you prevent possible attacks before they occur. Thus, you can consult with your doctor at an early stage and take appropriate steps to fine tune your treatment.
Better follow-up control
Regular FeNO measurements enable you to more accurately determine the progression and status of your asthma. This allows you to coordinate treatment together with your doctor. Ideally, this will lead over the long term to a reduction in medication.
Interview with Prof. Felix Herth on asthma and FeNO home measurement
1 With regular measurement over the course of the measured values; https://www.leitlinien.de/nvl/asthma
2 Dweik et al. Am J Respir Crit Care Med 2011;184:602-15
3 Karrasch et al. Thorax 2017;72:109-16
4 Taylor et al. Thorax 2006;61:817-27
5 Petsky et al. Cochrane Database of Systematic Reviews 2016;9: CD011440
6 Essat et al. Eur Respir J 2016;47:751-68
7 ATS/ERS Am J Respir Crit Care Med 2005;171:912-30
8 Horváth et al. Eur Respir J 2017;49:1600965